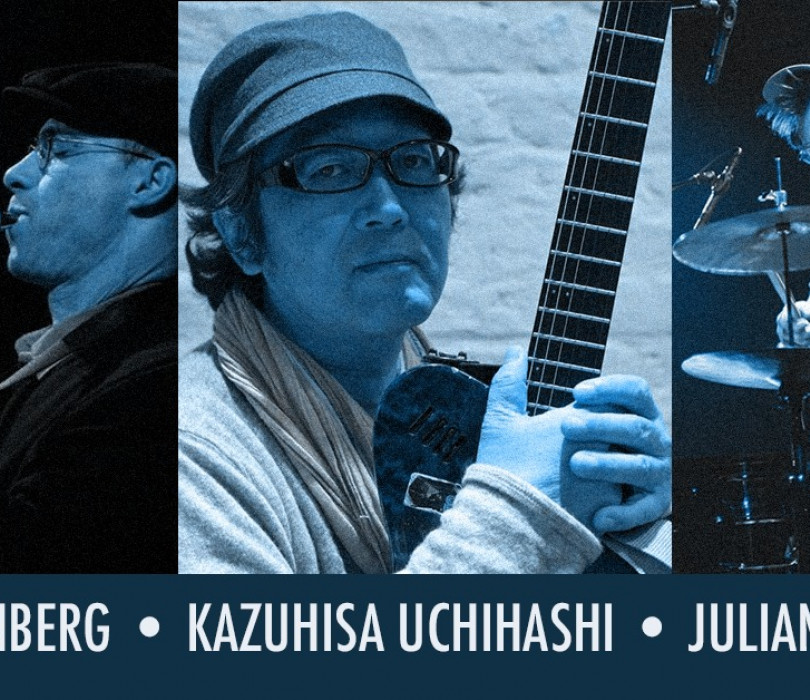 Ned Rothenberg / Kazuhisa Uchihashi / Jerzy Rogiewicz | "Trilateral Commission"

Koncert

40 zł
Ned Rothenberg - sax
Kazuhisa Uchihashi - guitar
Jerzy Rogiewicz - drums

"Trilateral Commission" nowy projekt światowej klasy improwizatorów - Neda Rothenberga, Kazuhisy Uchihashi'ego i Juliana Sartoriusa. Każdy z nich wnosi do miksu osobisty język muzyczny, natychmiast rozpoznawalny dla znających ich twórczość. Ned Rothenberg i Kazuhisa Uchihashi współpracują od ponad 30 lat, począwszy od gościnnego udziału Rothenberga jako w Altered States, przez trio RUB, aż do współpracy z tuwiańską śpiewaczką Sainkho Namtchylak. Sartorius i Rothenberg pracowali wspólnie w trio z pianistką Sylvie Courvoisier.

UWAGA!!! Ze względu na kłopoty zdrowotne Julian Sartorius nie dotrze do Polski. Zastąpi go Jerzy Rogiewicz.

bilety: 40/50pln

Composer/Performer Ned Rothenberg has been internationally acclaimed for both his solo and ensemble music, presented for the past 40 years on 5 continents. He performs primarily on alto saxophone, clarinet, bass clarinet, and shakuhachi. His solo work utilizes an expanded palette of sonic language, creating a personal idiom all its own. He has collaborated with Evan Parker, Marc Ribot, Ikue Mori, Masahiko Sato, Steve Nieve, Sylvie Courvoisier and John Zorn. "Ned Rothenberg is absolutely phenomenal.. (He has) opened up new and unheard expressive possibilities for wind instruments." Tagespiegel
Kazuhisa Uchihashi is a guitarist, composer and music producer.

Uchihashi plays a huge variety of music, having a distinctive musical voice in rock, jazz and improvised music. He composes widely for film, drama and dance, including 30 years of work with the Japanese theatre group Ishina. He has worked worldwide with many musicians, including Fred Frith, Zeena Parkins, Han Bennink, Shelley Hirsch and Christian Marclay . He co-founded the legendary Japanese power trio Altered States, active for over 32 years, which also worked inside Otomo Yoshihide's Ground Zero in the 1990s. Since 2010 he's traveled to Indonesia, Thailand and China to create collaborative projects with focusing on pan-asian identity. He met the band called Senyawa from Indonesia and they started new band Mahanyawa. His special instrument, the daxophone, is a creation of the late guitarist/inventor, Hans Reichel, who was a creative partner of Uchihashi.

Drummer, percussionist and artist Julian Sartorius forms sounds into previously unseen shapes. His precise and multi-layered rhythmical patterns are keen excursions into the hidden tones of found objects and prepared instruments, bridging the gap between organic timbres and the vocabulary of (experimental) electronic music. Sartorius has released numerous solo albums, creates audiovisual art works, collaborates with musicians, writers and artists and performs live in intimate venues and on festival stages. In recent 3964 × 2643years, Julian Sartorius has collaborated with numerous musicians including Matthew Herbert, Sophie Hunger, Sylvie Courvoisier, Gyda Valtysdottir and Shahzad Ismaily. His remarkable percussion work is featured on the current albums of Kate Tempest and James Zoo.
Pobierz Going. i miej kalendarz miejski zawsze pod ręką.